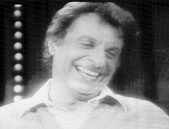 Film critic John Simon squashed the author of Love Story, Erich Segal, by mordantly noting that having "a choice of either being a knave or a fool, you seem to have opted for both." Simon was less effective when he picked on Mort Sahl in August of 1970.

In Sahl's monologue, he alluded to the problems of dating an intellectual actress. When John Simon joined the panel, he tartly suggested that there were "probably as many intellectual women as there are intellectual ex-nightclub comedians."

"You fellas know each other?" Cavett asked.

"We were talking about actresses," Sahl said. "We didn't condemn Simone de Beauvoir. However, why talk about the world, and important things when we can talk about the movies?"

Sahl continued the attack: "I was going to ask him, since he's defending women, how do you feel about homosexuals in the theater...is it possible to have a piece of modern classical music performed, if you're not established, if you're not in a homosexual community in America?"

"Well," Simon sighed, "I imagine it is possible to be a heterosexual composer and get performed, yes."

Cavett asked, "Do you have evidence of a conspiracy on the part of homosexuals to keep heterosexuals out?"

"Yes," Sahl answered.

"Look," Simon interrupted, "the whole trouble in the music world is there are not enough good composers of any sex coming around."

After the commercial break, Cavett tried to mediate between Sahl and Simon, suggesting that perhaps there had been a misunderstanding.

Simon seemed conciliatory: "If he meant that among actresses there are hardly any intellectuals, I suppose I would agree. But that goes for male actors too. Needless to say it is not bad not to be an intellectual, and there's certainly nothing wrong with an actor not being an intellectual. You act with your emotions, with your experience in life, with your sensitivity in life, and this has nothing to do with the intellect."

Sahl answered, "I saw Robert Blake on here with you and Truman Capote, and I found that he had more to say than either one of you and you were both intellectualizing."

"Well, he quantitatively may have had more to say. It was impossible to shut him up."

"No, he said more from the firing line. That has to do with his courage. And yours."

By the next commercial break, Simon was demanding that Cavett help in his defense and tell his viewers that Sahl had threatened to punch him.

Sahl sneered at Simon, "bad manners don't work anywhere, even on television."

In the case of late night television, he was wrong.